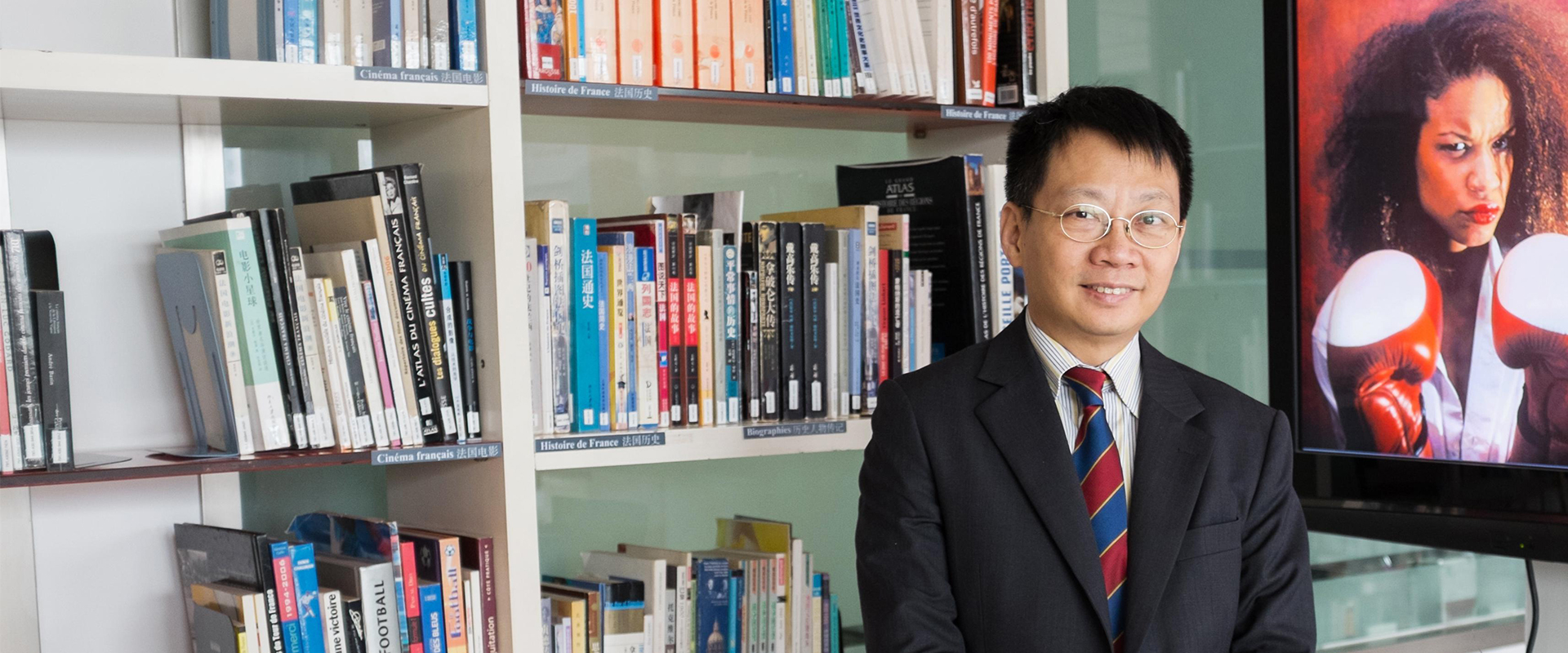 Biography of the founder
Dr. Lam Kin Chung was 31 years old when he established Lam Kin Chung Morning Sun Charity Fund in 1992. Back in his early years, life was tough for him and his single-parent family. He had different jobs during the day and worked as a security guard at night. Afterwards, timely opportunities helped Dr. Lam embark on a career in real estate development. A man of sharp judgment, Dr. Lam sold most of his properties in the critical year of 1997. In 1999, he shifted the focus on dotcom stocks. After selling down all the dotcom stocks in early 2000, Dr. Lam redirected his first investment in China- the 'Ninetowns Digital'. This software company went to the Nasdaq successfully on Dec 3 at a market cap of US$400m.
Dr. Lam is the Chairman of Lam Kin Chung Morning Sun Charity Fund and Hostford Development Limited in Hong Kong. His main business is Hong Kong real estate.
Dr. Lam is now serving as Senior Advisor of Shaw College, the Chinese University of HK, Honorary Council Member of the Board of Nanjing University, Honorary Advisor of the Academy of Oriental Studies at Peking University. Various donations for the Chinese University, Lingnan University and Open University of Hong Kong were made. Dr. Lam was presented Educational Devotion Award by Peking University at its centennial anniversary in 1998. He was named Honorary University Fellow by the Open University of Hong Kong in 2001. In December 2007, he was appointed as part-time member of Central Policy Unit, HKSAR.
After years of contributions in support of educational institutions in Hong Kong and China, Dr. Lam began to extend his efforts to the international academia. In 2004, Columbia University appointed Dr. Lam as Advisor of the Center on Chinese Education. Dr. Lam is the first benefactor of the Alliance Francaise  Library in Nanjing which is under the supervision of the Cultural Department of France. To strength the link between Oxford and Peking University, 'Ng Fuk Keung Oxford Memorial Teaching Fellow' is wholly sponsored by Dr. Lam starting from 2006 for three consecutive years to commemorate his best friend. Dec 2007, Dr. Lam sponsored the Queens' College Cambridge University Choir HK Tour.
Dr. Lam also has close links with Japan. He was presented an Honorary Award by Soka University, Japan on Dec 6 2000. Since then, he has been supporting students from Macau University and University of Massachusetts Boston to study aboard in Soka University, Japan. In 2012, he sponsored two students from Soka University America to attend "World Youth Leaders' Forum" in HK. To strengthen cultural exchanges between China and Japan, Dr. Lam took a leading role in setting up the Sino-Japanese Cultural Research Center at Nanjing University. On Dec 7 2001, the Center appointed Dr. Lam, former President of Tokyo University Prof. Shigehiko Hasumi and world-class Sinologist Prof. Jao Tsung-I as Honorary Founders.  On Dec 8 2003, Kin-Chung was appointed Honorary Trustee of the China Friendship Foundation for Peace and Development in Peking. On May 3 2005, the Peking University appointed Dr. Lam as Advisor of the Center of Japanese Studies. Contributing to North Asia's educational and cultural exchange, Dr. Lam led 37 members of the Nanjing University Traditional Instrument Orchestra to visit Japan and Korea for four performances in overwhelming success from 25 Oct~3 Nov 2006. To commemorate the 35th anniversary of diplomatic formalization of China and Japan, Dr. Lam sponsored a China Tour to Japan in June and Japanese Art exhibition in August 2007 at Shanghai Museum.
Dr. Lam was honored as the 'Honorary Citizen of Nanjing' on Dec 3 2002. In Jan 2003 he became member of the Political Consultative Committee of Jiangsu Province in China, which represents a population of 74 million people. In Dec. 2004, the United Nations Association of China appointed Dr. Lam as Council Member, which usually for former ambassadors. In June 2005, Dr. Lam sponsored the World Mayors' Forum held in Beijing. Dr. Lam is also Mediatheque de l'Alliance Francaise de Nanjing-benefactor 2005-2011.
The honor of 'Honorary Curator' of the China-Brunei Friendship Museum in 2006 represents a landmark in Lam's devotion in Southeast Asia peace action. In summer Dr. Lam sponsored and led the Nanjing University Orchestra to perform in Soka University Japan and Konkuk University South Korea. On Sep 21 2006, in recognition of Dr. Lam's peace movement, the Chinese People's Association for Friendship with Foreign Countries presented 'Award for Peace Development and Devotion' to him, and appointed him as Council member in May 2007. On April 29 2008, Dr. Lam was appointed as Council Member of China-Asean Association, which marked a new chapter in Dr. Lam's devotion in Southeast Asia. On August 21 2008, Dr Lam, together with his best friend Dr. Ho Hau-Wong, launched a peace programme for the National University of Singapore, namely 'Mahatma Gandhi-Daisaku Ikeda Peace Research Programme'.
On 25th November 2008, Cambodia-China Friendship Association presented certificate of acknowledgement to Dr. Lam for his great contribution for Cambodia-China friendship. In the July 2009, the Malaysia-China Friendship Association presented a Letter of Appreciation to Dr. Lam for his support for the celebrations of 35th Anniversary of Malaysia-China Diplomatic Relationship. In November the same year, Vietnam presented the International Humanism Award to Dr. Lam. July 2010, Singapore-Chinese Friendship Association conferred the Singapore-China 20th Anniversary Devotion Award to him. November 2011, the Laos-Ching Friendship Association conferred the Laos-China 50th Anniversary Formal Diplomatic Friendship Appreciation Award to him for supporting free cataract operation for the poor in Laos.
2009 marks a new page in Dr. Lam's peaceful movement. On June 25, Ministry of Health, Mongolia conferred an Honorary Award to Dr. Lam for his distinguish contribution for the celebration of Mongolia-China sixtieth Anniversary in formal diplomatic relationship. On December 7, the Chinese People's Association for Friendship with Foreign Countries conferred the highest honor of 'Friendship Ambassador' to Dr. Lam. This Honor was conferred to Princess of Brunei and Thailand as well.
In October 2010, Dr. Lam received the Bangladesh Friendship Award and had a dialogue with Nobel Peace Laureate Dr. Muhammad Yunus. Afterwards Dr. Lam was conferred 'Honorary Professor' subsequently by the China Foreign Affairs University, Hanoi University, Vietnam and Ling Tung University of Taiwan.
5th Jan 2011, Dr. Lam, together with Dr. Ho Hau Wong donated the first Yat-Sen Hall in Hong Kong to CUHK to commemorate the Centennial 1911 Uprising. September, Dr Lam sponsored the Nanjing University Orchestra to perform in Moscow and St. Petersburg University, Russia respectively. Due to Dr. Lam's devotion to the peace activities in Gulf Area, he was awarded the Honorary Certificate by the China-Arab Friendship Association.
In 2009, Dr. Lam met Mr. & Mrs. Tony Blair in Beijing and sponsored the Book Launch of Cheri's autobiography- 'Speaking for Myself 'in the People's Hall in Beijing and was invited to be member of Cheri Blair Foundation.
One of the remarkable significances of Dr. Lam is his consistent support to Harvard University, the USA. In 2000, he was presented the John Harvard Fellowship by Harvard University, and began to serve on the Harvard Asia Center Advisory Committee since then. November 4 2005, Kin-Chung Lam Room was named in the South Building, Harvard University. On September 7 2010, Harvard University presented Certificate of Appreciation to Dr. Lam for his consistent 10 years of support. Dr. Lam has been supporting various Harvard Programs such as Harvard Asia Vision 21 in Singapore 2010, the Harvard Erza F. Vogel Malaysia/Singapore Initiative from 2009-2012 in UKM & NTU respectively, Harvard Project for Asian and International Relations (HPAIR) in Singapore 2010 and Harvard College in Asia Program (HCAP) since 2011. Since 2012, Dr. Lam also donated scholarships to University of Massachusetts Boston.
Following Dr. Lam's meeting with then State Vice- Chairman Xi Jin-Pin in May 2012, he fulfilled his duty as' Friendship Ambassador' to have dialogue with Prime Minister Xanana of Timor-Leste and ASEAN Secretary-General Le Loung Minh in 2013. In June 2014, Dr. Lam sponsored the 'Harvard Asia Leadership Trek' to Myanmar, where he met Ambassador of China and the US Ambassador respectively. In the same month, he was appointed as Council Member of China-Pakistan Friendship Association. On 23rd September, former Prime Minister H.E. Abdullah Badawei conversed with Dr. Lam in China-Asean Summit Conference in Chengdu and signed a book to Dr. Lam.
2015 marks a further strengthening of the friendship between Dr. Lam and Vietnam. On 15th January, Dr. Lam met the State Chairman Troung Tan Sang to celebrate the 65th anniversary of formal diplomatic relationship between China and Vietnam. On 16th Dr. Lam established the 'Vietnam- China Education Exchange Fund' in Hanoi University. On 10th March, Dr. Lam met The Honorable Ma Ying-Jeou Esq. in Taipei to explore overseas scholarships for young Taiwanese students. On 2nd Sep, Dr. Lam met the President Mamnoon Hussain of Pakistan in Beijing for donation to Girls Education in Pakistan and His Excellency signed the biography of Malala Yousafzai to Dr. Lam with best wishes. On 14th October, Dr. Lam had a reunion dinner with Nobel Peace Award Dr. Muhammad Yunus in the Chinese University of Hong Kong. On 24th November, Dr. Lam received the Letter of Appreciation for Earthquake Relief from the Ambassador of Afghanistan in Beijing.
On 1st March 2016, the 480-pages book of "Hong Kong in the Belt and Road Initiative' was launched in HK, in which Dr. Lam is the Chief Editor. Preface of this book was written by Mr. Leung Chun-Ying, Chief Executive of Hon Kong. 30th same month, Dr. Lam visited Tel Aviv University presenting the book to the Rector. In May, Dr. Lam led the team of Radio Television Hong Kong to visit Tehran to meet China Ambassador Pang Sen, Tehran University and Chairman Mohammad of Iran-China Friendship Association, exploring the role of Hong Kong with Iran in the Belt and Road Initiative. 18th June, Dr Lam started his friendship with the first former State Secretary Madame Madeleine Albright in the celebration of the 30th Anniversary of Nanjing Johns Hopkins Center. In November, Dr. Lam, was invited by the Financial Secretary of Hong Kong to join a delegation to Iran.
2017 was the year of Dr. Lam to establish friendship with Ambassadors of Qatar, Saudi Arabia and UAE. Indonesia is the most important Muslim country in Asia. In the second half of 2017, Dr. Lam had dialogues with the National Vice President Jusuf Kalla, the former President Wahid's family and the Vice Governor of Jakarta Mr. Santiaga. To promote more understanding between Hong Kong and Indonesia, Dr. Lam sponsored a 3-year scholarship for Centennial College and University in Indonesia. In December, Dr. Lam was in a diplomatic delegation of China to another Muslim country in Africa, Morocco, where he met the President of Casablanca and the Prime Minister. To support UNICEF, Aspen Ministerial Forum in Lugano, the Prateepsasana Islamic School in South Thailand and being the first Honorary Founding member of Yunus Center in Hong Kong completed a fruitful 2017 for Dr. Lam. On 14th December, Dr. Lam greeted the former Secretary General Mr. Ban Ki Moon and the first female Prime Minister of Australia Madame Julia Gillard in Hong Kong.
2018 starting with the meeting with the former President of the Philippines Madame Arroyo in March to receive the Plague of Appreciation. In May, Dr. Lam was awarded the Certificate of Appreciation from the 18th Asian Game Parade Organizing Committee. July Dr. Muhammad Yunus, the 2005 Nobel Peace Prize Laureate presented an Honorary Certificate to Dr. Lam with his signature in Hong Kong. Dr. Lam is the keynote speaker of Batam conference organized by University of Indonesia in August.
2019 marks the footsteps of Dr. Lam in different continents. On1st February the Governor of Jakarta Anies Baswedan had an official audience with Dr. Lam at his Office. 5th February Dr. Lam was presented the pin of Monaco-China Friendship Association in Monaco. On 29th May, Dr Lam was conferred Honorary Trustee of China Russia/ EU/ Central Asia Friendship Association. On 14th June, Dr. Lam was honored as 'Knight Commander of Rizal' chartered under Philippines Republic Act no.646. On 9th September, upon celebration of 70th anniversary of formal diplomatic relationship between Russia and China, Russia- China Friendship Association presented the 'Russia- China Friendship Devotion Award' to Dr. Lam.
2020 January marked the cultural journey of Dr. Lam. In January he met the Curators of Harvard Museum, the Summer Palace and Heritage Museum respectively. He also had the honor to meet Dr. Gorbachev in his Foundation in Moscow and had a 75 minutes conversation. Dr. Gorbachev confirmed his friendship with Dr. Lam and grant the right to Dr. Lam for translation and publication of his recent two books. Facing the danger of Covid-19, Dr. Lam and his members of Knights of Rizal donated to UNICEF HK Committee for the children in Timor-Leste. In July, Dr. Lam donated to UNHCR to build a 'Lam Kin Chung- Ikeda School' in Pakistan and provide teachers and education supplies for another refugee primary school there. Altogether, the initiative benefits around 1,320 Afghanistan girls refugees in Pakistan.
Hong Kong is Dr. Lam's root. In 2020, he established 'Lam Kin Chung – Ikeda Scholarships' in six universities and one College. Adding the Lam Kin Chung- Ikeda Mentor Scholarship for students from Soka Gakkai HK, Dr. Lam expressed his respect for his Mentor Dr. Daisaku Ikeda whom inspired him immensely. Donations are also provided for Nepal and Pakistan students in Sir Ellis Kadoorie Secondary School, as well as the Children's Thalassaemia Foundation and Speech & Hearing Centre.
Facing the worldwide peril of Covid-19, Dr. Lam did not slow down his pace of charity. On 28th January 2021, 'Lam Kin Chung Lecture Theatre' was named in the Open University of Hong Kong. On 15th June, two 'Lam Kin Chung. Jet King Shing Ho Glaucoma Research and Treatment Centre' were established in the Hong Kong Eye Hospital and the Chinese University of Hong Kong Medical Centre. On 24th June, Dr. Lam was appointed as Patron of United Nations High Commissioner for Refugees and widen his scope of his global mission. On 28th June, Dr. Lam was conferred Honorary Doctor by Hanoi University. On 30th July, the solemn ceremony was held in Hong Kong the Embassy of Vietnam simultaneously with Hanoi University via zoom conference. On 9th August, Counsel General of Vietnam Embassy in Hong Kong presented a Certificate of Appreciation to Dr. Lam for his generous donation to purchase medical equipment for the fight against Covid-19 in Vietnam. Dr. Lam also donated to UNHCR to buy vaccines for Syria refugees. Dr. Lam made another donation to UNICEF on 27th October. The Consul-General Residence Program was relaunched with Consulate Turkey in the Baptist University of Hong Kong after 10 years. To promote art and cultural exchange, Dr. Lam became Patron of Indra & Harry Banga Gallery of the City University of Hong Kong and Patron Blanc for French May Festival.
2022 were hit by spread of Omicron in Hong Kong and the outbreak of the disastrous Russo- Ukraine War. Dr. Lam immediately donated USD250,000 to UNHCR for Ukraine emergency and sponsored appeal via TV commercial and other media. It was a successful appeal. In March, Dr. Lam supported a rehabilitation scheme in Kiev through an Ukrainian soccer star Aleks Shliakotin in Hong Kong. In April Dr. Lam visited the Embassy of Russia in Hong Kong to appeal for peace and more cultural exchange between Hong Kong and Russia. In May, Dr. Lam was honored the 'Global Outstanding Chinese Society Leaders Award by Asia Magazine and the book 'Gorbachev Cold War Memoir' Chinese version was published and released in Taiwan. Dr. Lam visited International Rescue Committee London Headquarter and made a donation, visited the Berlin Office of HK ETO and the Embassy of China in Vienna. In June Dr. Lam was invited to the annual dinner of the British Museum in London and received Plaque of Certificate of Appreciation in UNHCR Geneva Headquarter. In September Dr. paid a tribute to Mr. and Mrs. Gorbachev in front of their tombs on 20th in Moscow and established the Raisa and Mikhail Gorbachev Peace Scholarship in Palov Medical University in St. Petersburg. To promote Hong Kong as international hub of Art and Culture, Dr. Lam held conversations with Counsel General of Argentina, France, Japan, Poland, Russia, Turkey , the United Kingdom, Venezuela and Vietnam in their respective Embassy in Hong Kong. In October, Dr. Lam presented scholarships for students studying Germen, Russian and Ukrainian students studying Vietnamese in Hanoi University.
With the strength of Dr. Lam's strong global link, his peace movement will definitely grow rapidly.
Honors
Knights of Jose Rizal, the Philippines, Knight Commander of Rizal
Hanoi University, Vietnam, Honorary Doctor
Hanoi University, Vietnam, Honorary Professor
China Foreign Affairs University, Honorary Professor
Hanoi University, Vietnam Honorary Professor
Academy of Social Science, Tientsin, Honorary Professor
Ling Tung University, Taiwan, Honorary Professor
Nanjing, China, Honorary Citizen
China-Brunei Friendship Museum, Honorary Curator
Harvard University, John Harvard Fellow
Harvard Asia Center Advisory Committee, Member
The Center on Chinese Education, Columbia university, Advisor
University of Massachusetts Boston, Member of Chancellor's Council
The Open University of Hong Kong Honorary University Fellow
Kennedy Western University, U.S.A. Hon. Ph.D. (Education)
Cultural Research Institute on Korean Peninsula, Peking University, Honorary Advisor
Academy of Oriental Studies, Peking University Honorary Advisor
Hebrew & Jewish Culture Institute, Peking University Honorary Curator
Cheri Blair Foundation for Women Member
Center of Japanese Studies, Peking University Advisor
Nanjing University, the Board of Directors Honorary Member
Sino-Japanese Cultural Research Centre, Nanjing University Honorary Founder
Center of Japanese Studies, University of Macau Advisor
Ikeda Daisaku Research Society, Center of Japanese Studies, Peking U Director
Ikeda Daisaku Research Society, Hunan Normal University Advisor
Computer Network System of Psychological, Honorary Founder
Board of Trustees of Shaw College, CUHK (2005-2025) Senior Advisor
Board of Trustees of Shaw College, CUHK (1998~2014) Member
HK Baptist University Foundation (2008~) Honorary Vice-Chairman
University of HKU Foundation (2008~) Voting Member
Monte Jade Science & Technology Association of Hong Kong Honorary Chairman
Queen's College Old boys' Association Secondary School, Hong Kong Director
Cognitio College, (1992-2013, Hong Kong and Kowloon Schools) Honorary Council Member
Yuk Yin School, (Hong Kong) Sponsoring Body Manager
Hong Kong Sea School Honorary Bandmaster
Singapore Research Center, Shenzhen University Advisor
International Council of Advisors, Asian University for Women, Bangladesh Member
Hopkins-Nanjing Center Benefactor
Hong Kong-Asean Economic Cooperation Foundation Advisor
Hong Kong in the Belt and Road Initiative Research Series Convener and Chief Editor
Morocco-China Friendship and Exchange Association Honorary Member
Prateepsasana Islamic School, South Thailand Honorary Member
Association for the Philippines- China Understanding Association Plague of Appreciation
Yunus Social Business Centre, CUHK First Honorary Founding Member
Int'l Conference on Vocational Higher Education, University of Indonesia Keynote Speaker
Indra and Harry Banga Gallery, City University of Hong Kong Patron
French May Arts Festival 2022 Patron Blanc
The British Museum, Patron
Greater Bay Area Youth Orchestra, The HK Academy for Performing Arts, Sponsor
Awards
Chinese People's Friendship Association with Foreign Countries Friendship Ambassador
Chinese People's Friendship Association with Foreign Countries Peace Development Award
Soka University, Japan Honorary Award
Peking University Educational Devotion Award
Soka Gakkai International of Brazil Honorary Award
Soka Gakkai International of Hong Kong Honorary Award
ISG Associazione Italiana Soka Gakkai, Italy Honorary Award
Singapore Soka Association Friendship Award
Soka Gakkai Malaysia Praise Award
Soka Gakkai Taiwan Letter of Appreciation
Cambodia-China Friendship Association Certificate of Acknowledge
Academy of Social Science, Tientsin Special Contribution Award
Ministry of Health, Mongolia Honorary Award
Malaysia-China Friendship Association Letter of Appreciation
International Children's Centre 'Nairamdal', Mongolia Plate of Appreciation
Vietnam Peace and Friendship Association International Humanism Award
Confucius Institute, the University of Melbourne Letter of Appreciation
China-India Friendship Association Plaque of Appreciation
China-Arab Friendship Association Special Devotion Award
Singapore-China Friendship Association 20th Anniversary Devotion Award
Bangladesh-China People's Friendship Association 35th Anniversary Friendship Award
Harvard University Certificate of Appreciation
Laos-China Friendship Association Appreciation Award
Hanoi University Certificate of Appreciation
Embassy of Afghanistan China Letter of Appreciation for Earthquake Relief
Association for Philippines-China Understanding Plague of Appreciation
18th Asian Game Organizating Committee, Indonesia Certificate of Appreciation
Dr. Muhammad Yunus on behalf of YSBC@CUHK Certificate of Appreciation
Russia- China Friendship Association Russia- China Friendship Devotion Award
Economic Development Bureau of Kaohsiung City Government Taiwan Plague of Appreciationiation
Embassy of Vietnam in Hong Kong Certificate of Appreciation
The Chinese University of Hong Kong- save the planet project Certificate of Appreciation
United Nations High Commissioner of Refugees, Two Certificates of Appreciation