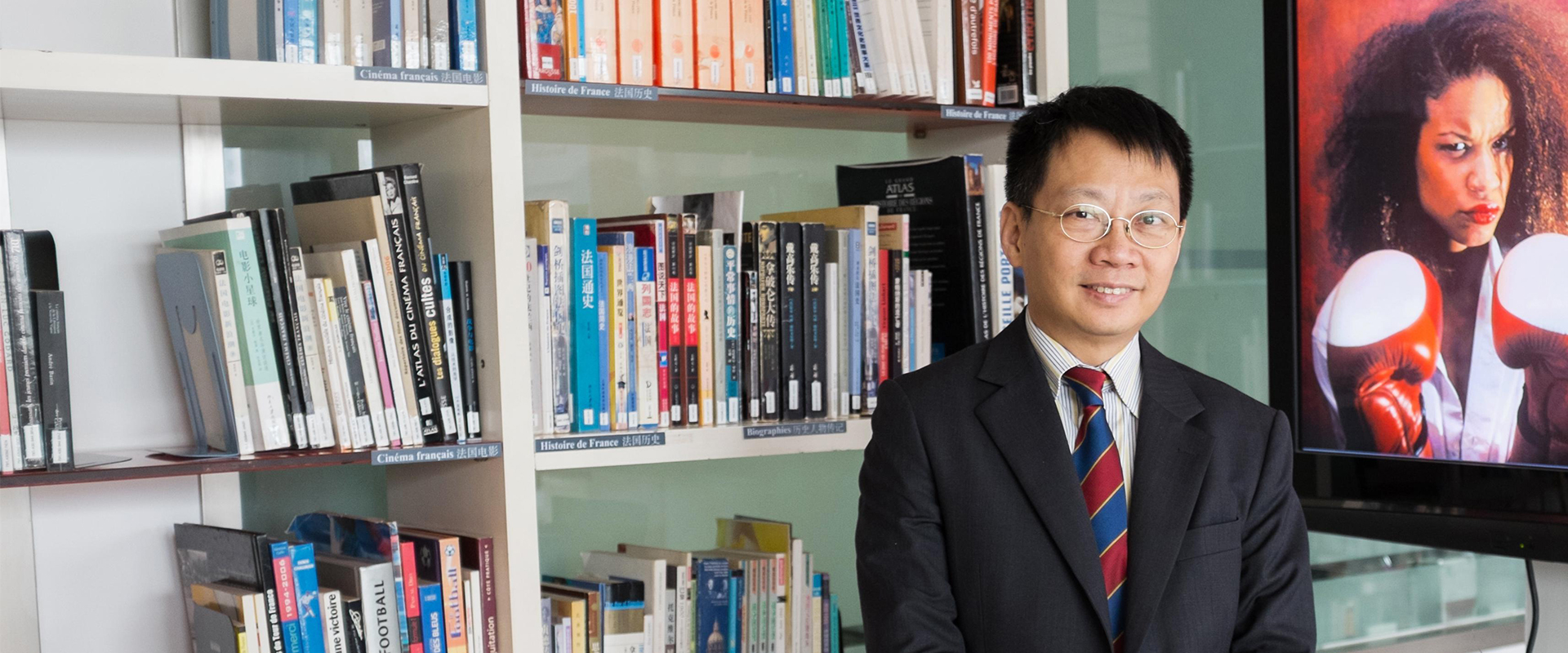 Biography of the founder
Dr. Lam Kin Chung was 32 years old when he established Lam Kin Chung Morning Sun Charity Fund in 1992. Back in his early years, life was tough for him and his single-parent family. He had different jobs during the day and worked as a security guard at night. Afterwards, timely opportunities helped Dr. Lam embark on a career in real estate development. A man of sharp judgment, Dr. Lam sold most of his properties in the critical year of 1997. In 1999, he shifted the focus on dotcom stocks. After selling down all the dotcom stocks in early 2000, Dr. Lam redirected his first investment in China- the 'Ninetowns Digital'. This software company went to the Nasdaq successfully on Dec 3 at a market cap of US$400m.
Dr. Lam is now the Chairman of Zhong Yang Group Holdings Ltd in Hong Kong. His main business is in Hong Kong real estate and now extend to infrastructure projects in the countries under the 'Belt & Road Initiative'.
Dr. Lam is now serving as Senior Advisor of Shaw College, the Chinese University of HK, Honorary Council Member of the Board of Nanjing University, Honorary Advisor of the Academy of Oriental Studies at Peking University. Various donations for the Chinese University, Lingnan University and Open University of Hong Kong were made. Dr. Lam was presented Educational Devotion Award by Peking University at its centennial anniversary in 1998. He was named Honorary University Fellow by the Open University of Hong Kong in 2001. In December 2007, he was appointed as part-time member of Central Policy Unit, HKSAR.
After years of contributions in support of educational institutions in Hong Kong and China, Dr. Lam began to extend his efforts to the international academia. In 2004, Columbia University appointed Dr. Lam as Advisor of the Center on Chinese Education. Dr. Lam is the first benefactor of the French Library in Nanjing which is under the supervision of the Cultural Department of France. To strength the link between Oxford and Peking University, 'Ng Fuk Keung Oxford Memorial Teaching Fellow' is wholly sponsored by Dr. Lam starting from 2006 for three consecutive years to commemorate his best friend. Dec 2007, Dr. Lam sponsored the Queens' College Cambridge University Choir HK Tour.
Dr. Lam also has close links with Japan. He was presented an Honorary Award by Soka University, Japan on Dec 6 2000. Since then, he has been supporting students from Macau University and University of Massachusetts Boston to study aboard in Soka University, Japan. In 2012, he sponsored two students from Soka University America to attend "World Youth Leaders' Forum" in HK. To strengthen cultural exchanges between China and Japan, Dr. Lam took a leading role in setting up the Sino-Japanese Cultural Research Center at Nanjing University. On Dec 7 2001, the Center appointed Dr. Lam, former President of Tokyo University Prof. Shigehiko Hasumi and world-class Sinologist Prof. Jao Tsung-I as Honorary Founders.  On Dec 8 2003, Kin-Chung was appointed Honorary Trustee of the China Friendship Foundation for Peace and Development in Peking. On May 3 2005, the Peking University appointed Dr. Lam as Advisor of the Center of Japanese Studies. Contributing to North Asia's educational and cultural exchange, Dr. Lam led 37 members of the Nanjing University Traditional Instrument Orchestra to visit Japan and Korea for four performances in overwhelming success from 25 Oct~3 Nov 2006. To commemorate the 35th anniversary of diplomatic formalization of China and Japan, Dr. Lam sponsored a China Tour to Japan in June and Japanese Art exhibition in August 2007 at Shanghai Museum.
Dr. Lam was honored as the 'Honorary Citizen of Nanjing' on Dec 3 2002. In Jan 2003 he became member of the Political Consultative Committee of Jiangsu Province in China, which represents a population of 74 million people. In Dec. 2004, the United Nations Association of China appointed Dr. Lam as Council Member, which usually for former ambassadors. In June 2005, Dr. Lam sponsored the World Mayors' Forum held in Beijing. Dr. Lam is also Mediatheque de l'Alliance Francaise de Nanjing-benefactor 2005-2011.
The honor of 'Honorary Curator' of the China-Brunei Friendship Museum in 2006 represents a landmark in Lam's devotion in Southeast Asia peace action. On Sep 21 2006, in recognition of Dr. Lam's peace movement, the Chinese People's Association for Friendship with Foreign Countries presented 'Award for Peace Development and Devotion' to him, and appointed him as Council member in May 2007. On April 29 2008, Dr. Lam was appointed as Council Member of China-Asean Association, which marked a new chapter in Dr. Lam's devotion in Southeast Asia. On August 21 2008, Dr Lam, together with his best friend Dr. Ho Hau-Wong, launched a peace programme for the National University of Singapore, namely 'Mahatma Gandhi-Daisaku Ikeda Peace Research Programme'. On 25th November 2008, Cambodia-China Friendship Association presented certificate of acknowledgement to Dr. Lam for his great contribution for Cambodia-China friendship. In the July 2009, the Malaysia-China Friendship Association presented a Letter of Appreciation to Dr. Lam for his support for the celebrations of 35th Anniversary of Malaysia-China Diplomatic Relationship. In November the same year, Vietnam presented the International Humanism Award to Dr. Lam. July 2010, Singapore-Chinese Friendship Association conferred the Singapore-China 20th Anniversary Devotion Award to him. November 2011, the Laos-Ching Friendship Association conferred the Laos-China 50th Anniversary Formal Diplomatic Friendship Appreciation Award to him for supporting free cataract operation for the poor in Laos.
2009 marks a new page in Dr. Lam's peaceful movement. On June 25, Ministry of Health, Mongolia conferred an Honorary Award to Dr. Lam for his distinguish contribution for the celebration of Mongolia-China sixtieth Anniversary in formal diplomatic relationship. On December 7, the Chinese People's Association for Friendship with Foreign Countries conferred the highest honor of 'Friendship Ambassador' to Dr. Lam. This Honor was conferred to Princess of Brunei and Thailand as well.
In October 2010, Dr. Lam received the Bangladesh Friendship Award and had a dialogue with Nobel Peace Laureate Dr. Muhammad Yunus. Afterwards Dr. Lam was conferred 'Honorary Professor' subsequently by the China Foreign Affairs University, Hanoi University, Vietnam and Ling Tung University of Taiwan.
5th Jan 2011, Dr. Lam, together with Dr. Ho Hau wong donated the first Yat-Sen Hall in Hong Kong to CUHK to commemorate the Centennial 1911 Uprising. September, Dr Lam sponsored the Nanjing University Orchestra to perform in Moscow and St. Petersburg University, Russia respectively. Due to Dr. Lam's devotion to the peace activities in Gulf Area, he was awarded the Honorary Certificate by the China-Arab Friendship Association.
Dr. Lam is a good friend of Mrs. Cheri Blair, wife of the former Prime Minister of the UK. In 2009, Dr. Lam sponsored the Book Launch of Cheri's autobiography- 'Speaking for Myself 'in the People's Hall in Beijing and was invited to be member of
Cheri Blair Foundation.
One of the remarkable significances of Dr. Lam is his consistent support to Harvard University, the USA. In 2000, he was presented the John Harvard Fellowship by Harvard University, and began to serve on the Harvard Asia Center Advisory Committee since then. November 4 2005, Kin-Chung Lam Room was named in the South Building, Harvard University. On September 7 2010, Harvard University presented Certificate of Appreciation to Dr. Lam for his consistent 10 years of support. Dr. Lam has been supporting various Harvard Programs such as Harvard Asia Vision 21 in Singapore 2010, the Harvard Erza F. Vogel Malaysia/Singapore Initiative from 2009-2012 in UKM & NTU respectively, Harvard Project for Asian and International Relations (HPAIR) in Singapore 2010 and Harvard College in Asia Program (HCAP) since 2011.
Following Dr. Lam's meeting with then State Vice- Chairman Xi Jin-Pin in May 2012, he fulfilled his duty as' Friendship Ambassador' to have dialogue with Prime Minister Xanana of Timor-Leste and ASEAN Secretary-General Le Loung Minh in 2013. In June 2014, Dr. Lam sponsored the 'Harvard Asia Leadership Trek' to Myanmar, where he met Ambassador of China and the US Ambassador respectively. In the same month, he was appointed as Council Member of China-Pakistan Friendship Association. On 23rd September, former Prime Minister H.E. Abdullah Badawei conversed with Dr. Lam in China-Asean Summit Conference in Chengdu and signed a book to Dr. Lam.
2015 marks a further strengthening of the friendship between Dr. Lam and Vietnam. On 15th January, Dr. Lam met the State Chairman Troung Tan Sang to celebrate the 65th anniversary of formal diplomatic relationship between China and Vietnam. On 16th Dr. Lam established the 'Vietnam- China Education Exchange Fund' in Hanoi University. On 10th March, Dr. Lam met The Honorable Ma Ying-Jeou Esq. in Taipei to explore overseas scholarships for young Taiwanese students. On 2nd Sep, Dr. Lam met the President Mamnoon Hussain of Pakistan in Beijing for donation to Girls Education in Pakistan and His Excellency signed the biography of Malala Yousafzai to Dr. Lam with best wishes. On 14th October, Dr. Lam had a reunion dinner with Nobel Peace Award Dr. Muhammad Yunus in the Chinese University of Hong Kong. On 24th November, Dr. Lam received the Letter of Appreciation for Earthquake Relief from the Ambassador of Afghanistan in Beijing.
On 1st March 2016, the 480-pages book of "Hong Kong in the Belt and Road Initiative' was launched in HK, in which Dr. Lam is the Chief Editor. Preface of this book was written by Mr. Leung Chun-Ying, Chief Executive of Hon Kong. 30th same month, Dr. Lam visited Tel Aviv University presenting the book to the Rector. In May, Dr. Lam led the team of Radio Television Hong Kong to visit Tehran to meet China  Ambassador Pang Sen, Tehran University and Chairman Mohammad of Iran-China Friendship Association, exploring the role of Hong Kong with Iran in the Belt and Road Initiative. 18th June, Dr Lam started his friendship with the first former State Secretary Madame Madeleine Albright in the celebration of the 30th Anniversary of Nanjing Johns Hopkins Center. In November, Dr. Lam, was invited by the Financial Secretary of Hong Kong to join a delegation to Iran.
2017 was the year of Dr. Lam to establish friendship with Ambassadors of Qatar, Saudi Arabia and UAE. Indonesia is the most important Muslim country in Asia. In the second half of 2017, Dr. Lam had dialogues with the National Vice President Jusuf Kalla, the former President Wahid's family and the Vice Governor of Jakarta Mr. Santiaga. To promote more understanding between Hong Kong and Indonesia, Dr. Lam sponsored a 3-year scholarship for Centennial College and University in Indonesia. In December, Dr. Lam was in a diplomatic delegation of China to another Muslim country in Africa, Morocco, where he met the President of Casablanca and the Prime Minister. To support UNICEF, Aspen Ministrial Forum in Lugano, the Prateepsasana Islamic School in South Thailand and being the first Honorary Founding member of Yunus Center in Hong Kong completed a fruitful 2017 for Dr. Lam. On 14th December, Dr. Lam met the former Secretary General Mr. Ban Ki Moon and the first female Prime Minister of Australia Madame Julia Gillard in Hong Kong.
2018 starting with the meeting with the former President of the Philippines Madame Arroyo in March to receive the Plague of Appreciation. In May, Dr. Lam was awarded the Certificate of Appreciation from the 18th Asian Game Parade Organizing Committee. July Dr. Muhammad Yunus, the 2005 Nobel Peace Prize Laureate  presented an Honorary Certificate to Dr. Lam with his signature in Hong Kong. Dr. Lam is the keynote speaker of Batam conference organized by University of Indonesia in August.
2019 marks the footsteps of Dr. Lam in different continents. On1st February the Governor of Jakarta Anies Baswedan had an official audience with Dr. Lam at his Office. 5th February Dr. Lam was presented the pin of Monaco-China Friendship Association in Monaco. On 29th May, Dr Lam was conferred Honorary Trustee of China Russia/ EU/ Central Asia Friendship Association. On 14th June, Dr. Lam was honored as 'Knight Commander of Rizal' chartered under Philippines Republic Act no.646 . On 9th September, upon celebration of 70th anniversary of formal diplomatic relationship between Russia and China, Russia- China Friendship Association presented the ' Russia- China Friendship Devotion Award' to Dr. Lam.
2020 January marked the cultural journey of Dr. Lam. In January he met the Curators of Harvard Museum, Boston Museum, the Summer Palace and Heritage Museum respectively. He also had the honor to meet Dr. Gorbachev in his Foundation in Moscow and had a 75 minutes conversation. Facing the danger of Covid-19, Dr. Lam and his members of Knights of Rizal donated to UNICEF HK Committee for the children in Timor-Leste. In July, Dr. Lam donated to UNHCR to build a school and provide education aid to 1340 Afghanistan girl refugees in Pakistan.
With the strength of Dr. Lam's strong global link, his peace movement will definitely grow rapidly.
名譽榮銜
和諧中華、海峽兩岸書畫藝術展(2009), 組委會副主任
中國交響樂團少年及女子合唱團2007臺灣交流團, 高級顧問
香港中文大學逸夫書院(2008-2019) 高級顧問
慶祝基本法頒佈15周年活動(2005) 首席贊助人
「香港特區選舉制度與競選工程」-新民主出版社 主編
捐贈項目
南京大學林健忠堂、健忠樓(季羨林先生題字) 贊助人
Publication Sponsorship
'Hong Kong in the Belt and Road Initiative', 2016
'Towards a world without Poverty and Inequalities' – CUHK, 2013
'Reshaping the Post-crisis World Order' – CUHK, 2012
'The Future of International Environmental Law' – University of United Nations, 2010
'The Rise of China & India' – EAI, NUS, 2009
'Iranian Studies in China' – Peking University Press, 2009
'United Nations: Towards a Harmonious World'- UNA China, 2008
獎學金資助
香港中文大學新亞書院林健忠博士學生交流獎學金 2015-17
澳門大學/創價大學學生交流計畫獎學金 2007-11
美國麻省大學波士頓分校/創價大學學生交流計畫獎學金 2011-15
香港上水育賢小學陳友才纪念獎學金 始於2013至今 陳校長幼孤助學金 2016-17
香港明德書院~印尼Petra Christian University 一帶一路獎學金 2017-19
獲頒獎項
中國人民對外友好協會「和平發展貢獻獎」 獎座及獎狀 2006
中國天津社會科學院建院30周年"科學發展獎.特別貢獻獎" 獎章及獎狀 2009
孟加拉中國友好協會 建交三十五周年友誼獎 2010
中國國際友好城市聯合會 辛亥革命百年紀念貢獻獎 2011
香港東區各界協會慶典委員會慶祝回歸16周年活動 熱心參與獎狀 2013
國際學術、文化交流贊助
香港公開大學第十二屆亞洲開放大學協會年會 1998
香港公開大學第一屆亞洲遙距及成人教育研究研討會 1999
南京大學林健忠傑出學人講座(張五常教授、林順潮) 2002.2006
香港中文大學亞太研究所十周年紀念論文集(楊汝萬教授等著) 2002
南京大學中日文化研究中心第一屆《廣松涉》國際會議 2004
香港公開大學林健忠講座(丘成桐教授、路甬祥院長、杜維明教授) 2004-06
'中國1937-45'哈佛大學夏威夷會議(東西方研究中心) 2004
北京大學日本研究中心'池田大作研究論文集' 2004
中國人民友好協會五十周年紀念音樂會(香港) 2004
香港公開大學20周年校慶林健忠講座-陳坤耀教授 2009
「池田大作與中國」-香港公開大學繁體字版 2009
「中日關係中的池田大作與周恩來」-香港公開大學繁體字版 2010
「大乘佛教的挑戰」第一、二、三、四、五冊-臺灣時報出版社 2010/11
香港中文大學「辛亥革命百周年紀念學術研討會」 2011
「大乘佛教的挑戰者」第四册-臺灣時報出版社 2013
「香港特區選舉制度與競選工程」-新民主出版社 2015
南京大學中日文化研究中心第二屆《廣松涉》國際會議 2005
《展望二十一世紀》與現代社會國際學術研討會 2005
南京大學-東京大學'素質教育論壇'贊助人 2005
'教養學導讀'([日]小林康夫,山本泰著) 2005
英國牛津大學-漢語教學中心伍福強紀念交流基金 2006-09
紀念日中邦交正常化35周年「浮世繪美術展」 2007
英國劍橋大學皇仁學院學生合唱團訪港交流團 2007
[21世紀東方思想的展望]繁體字版-澳門大學及香港公開大學出版 2007
新加坡國立大學杜維明教授講座「對話文明與和諧社會」 2008
馬來西亞拉曼大學杜維明教授講座「對話文明與世界大同」 2008
「大乘佛教的挑戰」哲學系列繁簡體兩岸十二月同月發行 2008
新加坡國立大學[甘地.池田大作和平研究計畫] 2008-17
新加坡南洋理工大學「哈佛大學教授講座」 2008-11
英國前首相貝萊雅夫人新書'Be Myself'人民大會堂首發式 2009
香港公開大學20周年校慶香港管弦樂團演奏會 2009
「池田大作與世界文學」-中文大學出版社繁體字版 2010
「新加坡政府與治理」-深圳大學新加坡研究中心 2010
香港珠海學院兩岸三地歷史學研究生研討會 2015-17